Back in September of 2006, we wrote this post about Tiny Details and how working for them, from home, might just cause more of an enormous headache than it's worth for the supplemental income it could afford. Over the years we've receieved a lot of comments about that post. We started wondering if we were a tad cynical and harsh and admit that we based our opinion solely on what we learned from online forums and other blogs' posts.
So this past fall, after a few fresh comments, like these from Edward and Albert were made in support of the company, we decided to give them a first-hand try with an eye to writing a new post all about what it's like to work as an assembler.
Now that it's all said and done, we're ready to write up our new and improved, first-hand review of what Tiny Details has to offer – along with a detailed account of exactly what we experienced for ourselves.
For the test run I recruited the most obsessive/compulsive person I know. Why? Because I figured assembling tiny little dollhouse miniatures might be right up her alley. Her attention to detail is superb. Her meticulous aim at perfection, daunting. So who better to give this company a test run? Plus, I know I simply don't have the patience or inclination to devote my spare time to the itty-bitty work . . . and I wanted to give this company a fair shake.
I armed my friend (read: guinea pig) with an introductory explanation of what the company offers, a link to their website, $100 for her to spend as she saw fit, and a legal pad with two sharpened Dixon Ticonderogas for keeping chronological notes about her experience. I know, how old school of me. Here's what she knew going in:
Tiny Details is a manufacturer that produces and sells artisan-quality miniature decorations that go into dollhouses. The factory store is located at 129 Main Street in Groton, New York. Check out this website, read through all their pages, and then purchase whatever kit you choose – though you might want to choose one of the easier (one star) kits.
The Tiny Details' Details
The site says you can use a printable order form or you can call 877-489-2900 to order the kit. Their explanation of how home assembly for Tiny Details works is as follows: (taken from their How it Works page):
You choose a product that fits you.
You send us a $55 deposit for the materials.
We send you a kit that contains everything you need to make a set of the product you picked.
You assemble a set of the product.
You send the completed set of the product to us.
We send you back your $55 deposit PLUS the product price ($50 to $200) PLUS your postage for sending the product to us.

The kit contains everything needed to make the product including: assembly materials, detailed directions, any necessary tools, a payment request form (to get your money), an extra materials request form (to get free additional materials if you need them) and even a finished product sample (except for very new products). We do include extra materials beyond what you need to complete the kit, in case you make a few mistakes. You will need a stapler and staples to seal the bags that most of the miniatures come in. Kits like our silverware chests require a pair of wire cutters and our miniature bow kit requires a low temperature hot glue gun. Otherwise, all materials are supplied by Tiny Details.

There is a $55 fully refundable deposit for the kit. It takes us 2-3 days to process kit orders and put them into the mail.

We normally send kits by First Class mail which takes from 1 to 9 days to get anywhere in the USA from the time it is shipped.

The box the kit comes in is about the size of a book, so it generally fits in most mail boxes and you won't have to make a trip to the post office to get it!

To be sure you are making the product correctly, you will send us a sample of the product you are making. We will check your sample and tell you if there are any problems so that you won't be wasting your time making the whole set incorrectly. The samples are returned to you after they are checked. We include a letter that tells you that the sample was made correctly or that it needs changes to be made. You do not have to wait for Tiny Details to examine the sample to continue working but, if changes are called for, you may have to fix some of the items you already made.

You have 60 days from the postmark on the package we send to you to assemble a whole set of the product and send it in to Tiny Details for payment. You must assemble a complete set. We do not accept partial sets. You must provide the box. Any sturdy box will do. Many people use the one we shipped the kit to them in. Under certain circumstances, we will give you additional time to complete your work if you can't complete it in 60 days.

When your complete product set is accepted by Tiny Details, you receive a check for three things:

The amount we agreed to buy the assembled product for
Your $55 deposit refund if you paid it by check or money order (it is refunded to your credit card if you paid by credit card), and
Up to $5 to cover the postage to send the product in to Tiny Details. (We figure out how much it is by reading it off the package!) This amount more than covers shipping as the products are miniatures and quite light when finished.

We send you a check on the day your complete product set is accepted by Tiny Details. We write checks every day. We believe in prompt payment! If you decide you want to assemble another kit, you can "roll over" the $55 deposit to cover the new kit and will not have to send us an additional deposit. New kits are generally shipped one or two days after the check is sent.

There is no limit to the number of kits you can have at one time. A deposit is require for each kit.

Even if you decide that home assembly is not for you, and whether you've used up none or all of the kit, we will refund half of your deposit to you as long as you return the unused portion of your kit within 60 days of receiving it. This covers our costs in providing your kits if you are not going to assemble them.

You have 60 days from the postmark date on the kit we send you. You must send your final completed set(s) postmarked no later than 60 days from our postmark.

There are no taxes withheld by Tiny Details. Federal law requires us to obtain your Social Security Number before we can buy more than $600 from you in a single year.
The Tiny Details Actual Experience
Here's the best account of what really happened from start to finish (including actual dates) taken from the assembler's hand-written notes:
October 18, 2011 – I called to ask a few questions abut the product choices, and to see if they answered the phone, and got a recorded message that gave me the following options: I could either (1) Check online, (2) Leave my name and address and question and they'd send me info, or (3) Leave my name and number and they'd call me back.

So I hung up and went online to their contact us page and at 12:45 pm I sent them a message telling them I was seriously considering this work from home option to make some extra spending money but that I had a few questions about some of the product kits. I asked about playing cards, magazine racks, Christmas light boxes, milk/juice carts, ice cream take outs, and books.

At 2:25 pm I received a reply from Mary at Tiny Details who answered all of my questions (in all caps beside each one). The answers were very thorough and I learned that a great many assemblers prefer super glue instead of hot glue when assembling the bows, and that they were fine with assemblers making adjustments like that so long as the finished product stayed in place. My questions were super basic since I was testing for response time and courteousness more than for additional instructions.

I decided to choose their Playing Cards kit – noting that I'd receive sheets of printed playing cards, a hobby knife, printed instructions, and bags to package the miniatures in. Tiny Details pays $50 for 100 sets (decks) and the level of difficulty is 'very easy' – simply cut out along the printed edges and placed into plastic bags. All of the tools I'd need would be provided, with the exception of a stapler and staples to seal the tops of the bags. Since this is considered a kit for beginners, it seemed like a pretty good fit for a trial run.

October 19, 2011 – After a good night's sleep I went to the Tiny Details website at 10:30 am to place my order, but it was down for maintenance. I stopped back a little before 12:00 noon and learned I'd need to create an account to place the order. I signed up and placed my order for the playing cards kit ($58.50 – the cost of the kit plus the $3.50 shipping charge). I received the following emails in response:

11:55am – Welcome to Tiny Details
11:58am – Order Received
12:19pm – Order Processed

October 22, 2011 – At 7:55 am I received an email notifying me that my order had been shipped. The email included the order number and a link to a more detailed invoice.

October 24, 2011 – I received my package.
The instructions are very detailed so you definitely know what's expected of you. You must send them a "sample" item before doing the entire job to get their approval. The tools they sent to work with, in my case the hobby knife, seems very cheap and not actually useful. To do the job properly I think I'll need to purchase a better, sturdier tool. I was expecting Tiny but wow, these cards are itty-bitty tiny. Too cute.


October 25, 2011 – I went and purchased a hobby knife at A.C Moore Arts & Crafts, completed one deck of cards, put them in the little bag, stapled the bag shut, and mailed the sample to them. So far I'm $68.50 in the hole for the price of the kit and the price of the new, sturdy craft knife. The latter is optional, but I can't imagine tackling this work without the better tool.

October 31, 2011 – I got a letter – they approved the sample and mailed it back to me – I'm now officially ready to start the task at hand.

November 14, 2011 – I've been working on cutting the cards apart to make full decks and it looks like I won't have enough plastic bags. So I sent a request for the additional supplies needed, more plastic bags.

November 18, 2011 – Got an email that they'll be mailing the plastic bags to me.

November 21, 2011 – I received the additional plastic bags today. I've been chipping away at the project for nearly 4 weeks, taking my time a little every day to ensure I didn't let fatigue affect my cutting, sorting and bagging skills. I'm finally finished with all 100 decks and from the best I can figure, I've spent a total of about 27 hours, give or take a half hour.

While I'm quite pleased with the quality of my workmanship, I really took my time to be extra careful for this test, that fact that I spent so much time means my per-hour rate for this work will end up being pretty low darned low. Let's see – 27 hours for $50 would be about $1.85/hour . . . if I could knock out the kit in 10 hours, I'd be making $5/hour. Course, I'd have to be cutting, organizing, bagging and stapling 10 decks an hour. Not sure how feasible that is – at least for me. I think my quality would suffer. The playing cards are tiny and the lines are very faint.

November 22, 2011 – I sent off the package with 100 completed decks of cards, along with my payment and deposit back request form. I'm so relieved to have concluded this test job before Thanksgiving. Now I can devote all my time and energy to making the perfect pumpkin pie. I can't wait for turkey day!

December 12, 2011 – I received a 'Product Submission Evaluation Report' stating the cards are not all cut out the same. They ask you to go through the cards and correct any that are the least bit off and re-submit. So I went through every single tiny card, with a magnifying glass in hand, and took out any I thought might be the least bit off out of the bunch. Nothing looked any different from the sample I'd sent in for approval – but I felt like I needed to at least try to figure out what they might be unhappy with. I spent a few hours on the task, cut out about 10 replacements, and repackaged everything.

December 15, 2011 – I mailed the package back to them, hoping that they'd go through and I'd get my reimbursement. I ordered on October 19th, here it is December 15th and I'm having to send it back in. My total time in is now around 30 hours so now, if I get paid, I'll have made about $1.67 for my time.

January 26, 2012 – Happy New Year! The holidays were great, but I haven't heard back from Tiny Details at all so at 9 am I called to inquire about the status of payment . . . or whatever. I left a message. At 1 pm I sent them an email outlining the events to date and noted that I also left a message on the phone answering machine or service and that I'd really appreciate some information as to the status of my kit.

February 3, 2012 – I sent another email, repeating what I'd sent on the 26th of January and again asking for either payment or return of the kit.

February 8, 2012 – At 2 pm I called and left a message again. This time I stated that they could just return the cards to me since they obviously had no intention of ever paying me for the project. I admit – I'm frustrated. What a crock. It's fine if they want to continue to decline my work, but they shouldn't get to keep both my money and the product and the $50 I would have received.

March Something – Eh. Decided it would be a waste of my time to pursue contacting them any more.

June Something – I'm pretty sure I'll never hear back from them again. It's a waste of time to email or call any further. I'm turning over the notes from my test project. Thanks for the big fat waste of time, Lisa, I was hoping that working on miniatures would be an awesome hobby. Not so much!
So, I'd gotten her notes in June of 2012, but I didn't post a review because I kept thinking she might hear back from them. By the time she did, it was a comical aside in an every-day conversation. It was an "Oh my God, guess what I got in the mail today?!" kind of remark and after a quick chuckle, it was quickly forgotten again.
That conversation took place on August 8, 2012.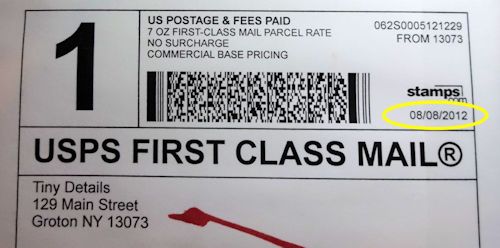 Now that we're once again gearing up for Thanksgiving again (a year later), I figured it was time to finally post this updated review. At least I got something out of her efforts. We also had a pretty good laugh over the whole fiasco, for whatever that's worth.
So is Tiny Details Assembly Work a Scam?
Not exactly. She finally got 100 decks of tiny cards, so I guess you can't technically classify it as a scam. But it sure seems they skate awfully close around the scam rink.
Does doing Tiny Details assembly work pass muster as a good way to earn some extra money from home? Um, no. Even if she had been able to hurry through the exacting work, and get approved on the first go-round, she'd have ended up making about $3.00 an hour. I guess that might be okay if you have no other options at all and you really, really like detailed miniature work, but for the average Joe it really doesn't cut it. Remember, you're an independent contractor, too, so if you manage to earn more than $600 profit in a year, you'll have to also pay taxes on that $3/hour.
Bottom Line
Why in the world would it take them from December 19, 2011 (assuming the package reached them in 4 days, which is a generous allowance) to August 8, 2012 to let her know the status of her kit by returning the 100 decks of tiny little cards? Why didn't they ever respond to her calls and emails? How many people simply give up or forget and don't call or email at all? Do they ever get their kits or half their money back or anything at all for their trouble?
They were responsive and helpful in the beginning – not so much after the completion of the kit. That makes me cynical, and I think that's a pretty darn fair, first-hand assessment. So maybe reading forums and blog posts others have written is a decent way to assess the potential of a work-at-home opportunity after all. Seems our original post wasn't far off the mark, at least from our experience.