At least some of them do, thanks to Amit Gupta, Luke Crawford, and their friends. They're credited with the creation of casual, co-working events known as Jellies!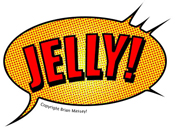 Since its inception in 2006, Jelly groups have been forming around the world, with many people praising the added social components it affords without all the office politics.
If you work at home you know that sometimes you can feel pretty darned isolated. And if you're looking to work at home, but worried about missing the social aspect of working in an office, take heart. Jellies might just be your answer.
So what is it, really?
It's an informal, self-structured working environment created by and for people who telecommute (full time or part time) and are in close enough proximity to each other to actually get together and work from the same physical location. It's not meant to be a routine work space solution, but rather a supplemental work space situation (event) that offers some of the social interaction that working at home often lacks.
It's far more casual than a traditional workplace environment, and there are no financial responsibilities for the workers using the space (like there would be if they rented a traditional office space). It's simply a social collaboration effort.
Here's what the Jelly creators say about it . . .
Jelly is a casual working event. It's taken place in over a hundred cities where people have come together (in a person's home, a coffee shop, or an office) to work for the day. We provide chairs and sofas, wireless internet, and interesting people to talk to, collaborate with, and bounce ideas off of.

You bring a laptop (or whatever you need to get your work done) and a friendly disposition.
And here's Amit's "What is Jelly?" video . . .

If you skipped the video, hit play now. It's worth watching! Look at all those comfortably dressed people working on the wide variety of tasks they're individually focused on.
Do I belong to a Jelly?
Unfortunately, no. There are far more Jelly groups today than when I'd originally heard of the concept and looked for one near me, but there's still not Jelly near me. Yet.
There's a Chicago Jelly that meets on the 1st and 3rd Fridays every month, a Columbia, South Carolina Jelly that meets every Tuesday at The White Mule on Main Street, and JellyLA has weekly events all around Los Angeles County. And there are jellies in the UK, Australia, Canada, China, Argentina, and more.
I have given some thought to the idea of starting a Jelly, but haven't actually done it. Looks easy enough, though.
Can I start a Jelly?
Hells yeah! Email hello@workatjelly.com and we'll help you get started.
So how do Jellies organize and how do you find one?
Simple. They use a wiki for collaboration and organization. To find a Jelly near you, see their wiki here: wiki.workatjelly.com.
For more information on these groups visit the Jelly Wiki page above to see if there are any groups in your area or maybe even start your own. And check out these Jelly mentions worth seeing:
Wired
Freelancers Forgo Office Space for Casual Coworking
NPR News Radio Clip about a NY Jelly
Work Group Make Telecommute a Social Affair by Brad Linder
NY Post
Creating A Wireless Hub – A Rising Number of "CoWorking" Spaces Bring Freelancers and Other Solo Workers Together