I call them purses, but lots of folks call them handbags, and here in the south they're commonly referred to as pocketbooks. Whatever you want to call them – why not get yourself a new one for FREE from a brand new site that's launching on October 15th!
With just a first name and an email address, you can enter to win a free handbag (totally free, no shipping, no credit card required) from HandbagPlanet.com. The site is promising high fashion, trendy handbags inspired by popular designer brands but priced reasonably (between $30 and $80). Sounds good to me, and I could always use a new handbag!!
They are giving away a free handbag every hour for 24 hours until they officially launch. When you sign up you can choose WHICH handbag you would like to win. You get one entry for giving them your first name and email address, 3 more entries if you give them +3 friends' email addresses, +10 more entries if you email them your Facebook, MySpace or Twitter account info, and +25 more entries if you write about the contest on your blog.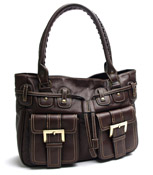 Ahem, now you see why I wrote about this on my blog! I NEED a new purse and I'd love to snag myself a freebie from HandbagPlanet.com before they even launch their store. Not sure I'll convert to calling it a handbag, but I'm willing to try if I end up winning one.
🙂