Premier Mailing Service, Inc.'s Work At Home Scam Busted
My husband got a letter in the mail just the other day – addressed directly to his more common nickname instead of to his formal name (which makes me wonder where they snagged our address) offering him *UP TO* $4,500 a week for assembling "Get Credit Now" booklets at home.
If you've been looking for work at home opportunities – chances are someone down the line has gotten your mailing address and sold it or passed it along down the line. Or maybe like me – ten years later your spouse gets a work at home offer in the mailbox.
I can safely say that ANY letter that comes to your home address totally unsolicited and offers you a work-at-home opportunity is a scam. Here's how you can tell this one's a scam even before you Google it!
They Want $$ from You…
The tallest and brightest red flag is the fact that this one page letter ends with a 'registration form' that looks more like an ORDER form. Yep. They are asking for money. (A $45 refundable deposit plus $5 shipping.)
What's the money for – well, that's the second red flag. Here's what they say:
We would love to get you started without any registration fee, but to make sure that you're a serious home worker, we're going to require a $45.00 REFUNDABLE FEE. This fee will be returned to you after you've mailed off your first one hundred booklets."
There are a LOT of problems with this rationale. IF they are taking your money only to disqualify people who are not serious about working from home, why not make it even tougher to get in. Why not require folks to attach a resume or brief work history and then answer an essay question. It takes me a lot longer to write an essay than it does for me to write a check.
There's No Return Address on the Envelope…
Always a clue! Not including a return address on the outside of the envelope is just bad business. AND, the address they give on the order form (I mean, registration form) is a post office box. While there's no harm in having a post office box through which to conduct business – there IS harm in having ONLY a post office box to contact them for their refund guarantee. To make matters worse, the company address inside the letter is in Naples, Florida. The post office that processed the letter is in Corpus Christi, Texas (and I live on the east coast). At the very least, I'd mail something to the PO Box to see if I got an answer. I might also mail stacks of monopoly money to the post office box address if I were bored enough and had an extra stamp to spare. After all, the letter didn't specify it has to be real, legal U.S. tender.
Their Guarantee Isn't Backed Up with Specifics
Their "unconditional guarantee"…
Register with our program now, and start stapling our booklets at home. If you're not making the kind of money that you desire after working with us for sixty days, just return our instruction manual for a full refund of your registration fee, plus an additional $35…just for giving our program an honest try. We stand by our promise…but more importantly, we're confident that you'll make good money working with us.
They make the guarantee sound too attractive, offering an additional $35, to ease your gut-instinct fears and keep you from noticing that they don't tell you exactly how to go about getting that refund.
They also forget to tell you that they aren't going to reimburse the $5 you sent in for shipping (so that brings that $35 something-for-nothing down to $30). And then there's the shipping costs you'll incur when you return the instruction manual. They offer to send you a stapler, too, so maybe you'll have to send that back as well when you go after your refund.
I'm certain that whatever you get in return is worth nothing close to $50 and won't cost them $5 to ship it (if they send you anything at all). They don't include a response envelope for the form – nor do they even enclose a form to fill out. You'd have to cut the bottom of the letter off and mail it in. And guess what – that's where the address is – on the form you just cut off and mailed in. So unless you made copies of the front and back of the letter, you'd have little to go on to try to get a refund.
It Sounds too Good to Be True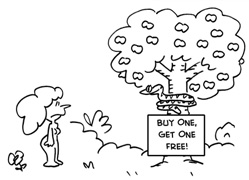 Nothing is ever as good as it sounds. When the letter touts all the great benefits you'll receive, the chances are high that you're not getting a very accurate picture of the real deal at all. There's GOT to be something in it for them — otherwise they wouldn't have gone through the trouble of buying a mailing list and sending out the letters. It's not likely that you're going to be pulling in over $4,000 a week stapling booklets. They could go to a printer and have the work done for much less.
Imagine, though, if they sent out 100 letters and got 20 responses with checks for fifty dollars enclosed. That's a pretty quick $1,000 return on investment. Not bad, huh. What if I told you that YOU could make $1,000 for an hour's work and $42 in stamps? The catch is that you'd have to be scamming people who are looking for legitimate work at home to do it.
Perhaps the real idea here is to get you to do the same thing – take the sample letter and recruit other people to do the stapling. There's a hand-written code on my letter, G4-LV7772, so they're tracking something (either the referral or the mailing list).
Google it…
If you ever find yourself reaching for your checkbook, please Google the company name on the letter before you send them you're hard-earned money.
Google "Premier Mailing Service, Inc." find these mentions right on the first page of results:
Got First-Hand Knowledge?
If anyone has first hand knowledge of Premier Mailing Service, Inc. and their booklet stapling offers and would like to either vent frustrations or include additional advice to others, feel free to leave a comment here.
And if anyone who actually sends out these letters would like to explain or defend themselves, feel free to attempt to do so in the comments here as well.