Not too long ago I started taking this blog a bit more seriously, at least I've been trying to. I'd even commissioned someone to design a one-of-a-kind logo for me. He sent me hand-drawn sketches full of ideas and I fell in love with the little house sitting on top of the world to represent Telecommuting Journal (thanks, David).
I don't spend a lot of time promoting or marketing this blog. I simply write and maintain this blog because I have a desire to tout the wonders of being able to work from home and what this lifestyle has afforded me. I also have a burning desire to help others stay away from the scams that abound in this arena and also find legitimate work they, too, are able to do from home. I was in the same boat over a decade ago and I remember what it was like searching for my path.
Sometimes in RL I meet folks looking for something they can do from home (even more so in this economy where losing jobs is becoming quite common). I tell them to check out this blog for some options and ideas. Sometimes I even have an old business card handy. And sometimes online I will list my blog in directory or join a community in hopes of reaching more folks who are either interested in working at home or already doing so.
So when the opportunity presented itself to grab some blog logo decals, I took it. I sent over an image of my logo with a blurb added to the bottom (thanks again, David) and crossed my fingers.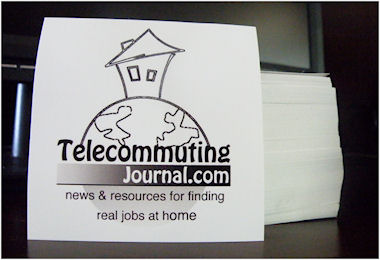 And I got lucky.
I received 250, 3″ x 3″ stickers with easy peel backings in the mail from the nice folks at PsPrint.
I set them on my desk and took a picture of the entire stack. 250 stickers is really a lot of stickers. And I've actually been having a great deal of fun with them lately. So much so, that I'm thinking they are more useful than traditional contact cards or business cards.
At first I thought about handing them out like business cards or offering them to readers, but then I started to get more creative.
So far I've posted a few on local bulletin boards that are full of area business cards. No, I didn't peel the back and stick it on. I'm not an inconsiderate dolt! I used a push pin, just like all of the other business cards did. But to be honest, my 3″ square sticks out nicely. And if anyone decides to take it home there's another beneath it since the stickers are thin enough that a push pin easily holds four of them.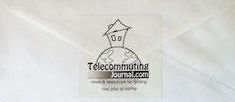 I've also used them on the backs of envelopes, even when I'm just mailing out bills. I figure if it's ignored by the recipient, there are lots of additional eyes who see it in route. I used to work at the post office. I'm sure there's a clerk or a sorter or a carrier or some PTF out there who might find it amusing and decide to visit the site. Right?! Either way, it certainly can't hurt to put it out there.
What I SHOULD have done.
Hindsight is 20/20. It's a fact. While thinking of creative uses for my new logo stickers I realized that what I should have done was create some glorious graphic that touted the wonders of working at home or …?… and then included my website address across the bottom or top or side. Then I could have given them away for their own sake – some cool new sticker idea that just happened to also promote my blog, too.
So I'm tucking that idea away for later. And when I'm ready I'll be sure to visit my friends at PsPrint, who so kindly turned me onto the idea of using stickers to help promote my blog in the first place!
COUPON OFFER:
If you're thinking of getting blog logo stickers, be sure use the code "blogger" during checkout. It's good for a 30% discount off your first order of up to $200 until June 30th. Keep in mind it can't be combined with any other promotions or sales.
Handy Resources: