A key factor in balancing home and work life for a telecommuter is having a home office. While the ideal might look like a floor to ceiling windowed room with ample light flooding onto an image akin to a home decorating magazine. For others it might look like a rich mahogany desk with matching built-in bookshelves, and a Great Dane regally poised beside the rustic fireplace.
But let's be realistic. When you're working from home – especially in the early stages – the need for a functional workspace generally comes before the money to design a library fit for royalty. However, having both limited funds and space doesn't mean having to sacrifice an office that is both efficient and inspiring – the essential elements for any workspace.
You simply have to use your imagination — enter the closet home office.
While the idea of squishing both you are your work belongings into a closet may sound a little too far-fetched for your tastes, CNN, Sunset Magazine, and Country Living all prove that creating a home office in your closet isn't only functional and affordable, it can be actually be a charming version of the office retreat you've been dreaming of.
Organize to maximize
By organizing your closet office you'll be able to maximize both space and efficiency. Country Living magazine suggests taking two file cabinets, painting them in the color of your choice, then placing a painted board on top. Additionally, you can add bulletin boards on the doors and shelving above your desk, allowing ample room to keep you organized.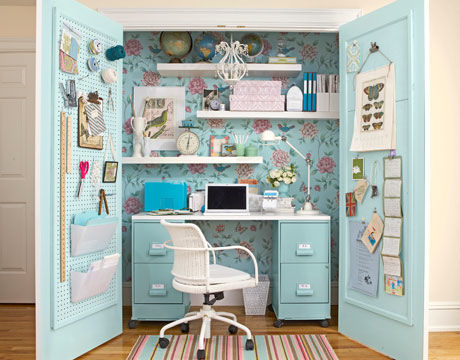 Michael Partenio – Country Living
Brighten it up
Since most closets don't have windows, it's important to make the space as bright and open as possible. Light colored paint and mirrors are simple affordable tools that can be used to make a space appear larger. When you paint, don't forget the inside of the closet doors, as painting the doors can designate they are also apart of your workspace. Additionally, if you want to make the space appear larger, but don't want a large mirror in your workspace, a collage of small mirrors on the door can make excellent mini reminder boards if you write yourself notes on them with dry-erase markers.
Create a focal point
While you certainly don't want the space to look cluttered or busy, having a focal point will give the space the balance needed for an office to feel inspiring. Ideas like hanging a light fixture, wallpapering the back wall, placing organized and symmetrical items on the shelves above your desk, or even displaying photos can help the space become more pleasing to the eye. Did you even notice the chair when you glanced down at this photo from Jen Jones at iHeartOrganizing?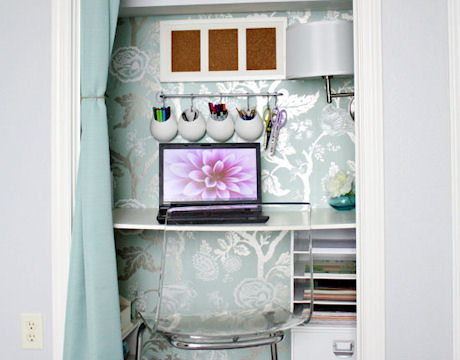 Jen Jones – iHeartOrganizing.com
Make it private
If you don't have the necessary privacy and peace to complete your work then there's something amiss with your office environment. Larger closets, like walk in closets, might allow you to work with the door closed, though you might feel cramped and claustrophobic . . . but small closets don't have that luxury. Alternatives might be replacing the door with a partly closed curtain or having the closet office in a place like your bedroom where you can close the bedroom door, but keep the closet door open while you're working.
Save money without skimping on inspiration
One of the notable perks of working from home is not working in a gray cubicle. Having a low budget for your closet office doesn't mean you have to resort back to less-than-inspiring working quarters. Adding affordable elements to the room, like a quote wall on the office door, can easily be created by painting a chalkboard wall (chalkboard paint is around $14 on Amazon). Other inexpensive ideas are framing a map from a place you've visited, displaying a piece of china that's special to you, or using a sentimental item as storage, like a vase as a pencil holder.
Telecommuting can truly be a significant change in your life. If you're about to start working from home, define a workspace that sets you up for success. If you've been working at home for a while and are sick and tired of having the kitchen table cluttered with your work files, designate a new workspace that not only fits your needs, and your space limitations, but also fits who you are. It can make all the difference in the world of the work-at-home professional.