Insurance. Just saying the word can raise your blood pressure and unless you've been residing under a rock, you should know that a rise in blood pressure is bad news! Imagine having to visit a doctor to receive the official notice of high blood pressure and then walking to the desk as the visit closes without the benefit of having insurance to help cover the cost of the visit and whatever treatment your condition requires. Your blood pressure probably just spiked even thinking about the negative ramifications of such a visit. Now think about having to face such a scenario each and every time medical attention or consultation is needed. Such is a daily fact in the life for many people who work at home.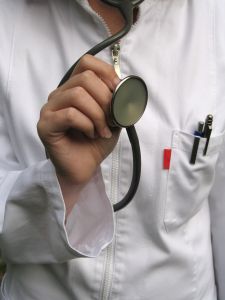 So far for me it's not been much of an issue because my husband's job provides us with family insurance, even if our costs do continue to spike. One year everything doubled from our copay to our prescription coverage. But I can't imagine having to get medical attention, dental care, and vision care without us having that coverage. As a 1099-er, I'm not provided group coverage and neither are thousands of others who work at home whether they're self-employed or employed by one of the many small, privately-owned businesses that struggle to keep the United States economy afloat.
While working outside of the cubicle does have a lot of benefits, insurance coverage is not usually one of them. As if working without the safety net of surrounding employee knowledge is not a scary enough proposition, consider attempting to navigate the world of individual health care insurance on your own. You ARE your human resources department and if you simply have no access to a company provided insurance plan, you must choose to live dangerously on the edge and take your chances or start looking. Unfortunately, the simple act of locating and researching available policies can take a huge effort and expansive knowledge. Fortunately, there are companies who make comparison shopping of individual health insurance available.
Health Benefits Direct is one such company, as is GoHealth Insurance and eHealth Insurance. If you're not currently covered, those are definitely great places to start comparing health insurance information and policies.
The offerings from the 3 companies noted above are varied to the point of having something for nearly everyone's needs, from health insurance for an individual or a family to term life insurance. Maybe a dental plan is what you need, check, it's here. How about a health savings account for those who want a tax advantage to saving for medical expenses while maintaining a high deductible plan? Check, it's here. Short term insurance, a vision discount plan, student health insurance? Check, they are all here. What if you need to travel abroad and need health insurance to cover you? Check,… you get the idea…
How these companies offers such a variety becomes evident when you take a minute to look at the carriers each company markets. At Health Benefits Direct, several big names, such as Aetna, Assurant Health, Humana, Pacific Care, and United Healthcare, are among the participants in the health insurance category. AIG and Colorado Bankers Life are companies whose plans are marketed in the term life section. Health Plan Administrators offers dental insurance, while HTH Worldwide offers travel health insurance. With such a varied marketing effort, you should be able to get which ever insurance your particular circumstance demands… and good news, it's easy to apply.
Every one of those sites provides an easy to use "Free Quote" comparison shopping tool. Simply enter your zip code and you are well into the first step. After completing the form and submitting it, help is available either on-line or via the telephone in comparing the possible policies. A note of caution here though: Make sure that you are comparing apples to apples and not apples to oranges among policies. Be aware that each state is different in what it terms a mandated (covered) condition vs. a non-mandated condition. Another striking difference is among providers who are mandated (covered) and non-mandated. For instance, did you that Connecticut mandates Prostate Cancer Screening, but Ovarian Cancer Screening is a non-mandated condition? Or how about from the same source that Dentists are mandated providers in Connecticut, but Oral Surgeons are non-mandated?1
Just remember as you navigate the sites and receive quotes that help is available online or via phone, generally from licensed insurance agents, while you're researching and comparing quotes.
Whatever circumstances have brought you to your search for individual, family, or small business health insurance coverage, take a deep breathe to keep your blood pressure as low as possible and look into comparing available coverages from sites like those I've noted here. Maybe after your new insurance card is safely tucked away in your wallet, waiting patiently for your next trip to your doctor's office, the simple word insurance won't cause a spike in your blood pressure!
Health Benefits Direct – Shop, compare, and apply for affordable health insurance, online or by phone, from multiple highly-rated insurance carriers with one call all from the comfort of your own home or office. Get health insurance quotes based on your particular needs.
GoHealth Insurance – A direct approach to health and wellness, provides an online resource for comparing health insurance options online. You'll also find educational tools to help you understand the world of healthcare.
EHealth Insurance – Founded in 1997, its technology was responsible for the nation's first Internet-based sale of a health insurance policy. Side by side comparisons of individual, family, or small business health insurance and the best medical insurance plans for your needs and budget.
1A copy of the 2008 edition of "Health Insurance Mandates in the States" is available on CAHI's website, www.cahi.org. Also available on the web site are corresponding documents: "Trends in State Mandated Benefits" and "Mandated Benefit Definition Memo."