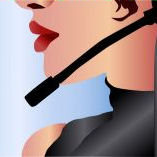 Once upon a time, a l-o-n-g time ago, I worked for a major department store's call center, taking phone-in orders from their catalogs. For those of you who don't remember what it was like back when you received catalogs in the mail and then either had to pick up the phone or fill out a form and mail it in with a check, you're probably not nearly as impressed with the ability to turn on your computer and quickly research and order anything you like without having to call and speak to anyone directly OR get out your ink pen to list your items and calculate your own totals… but I digress. . .
So back to working in a pre-turn-of-the-millennia call center. Back then I occasionally accessed a computer at school but certainly didn't have one at home, so the thought of being able to do my job–to take those customers' orders right from home never even dawned on me. I worked my little part time job on the weekends from the warehouse-sized, cubicle-filled, artificially-lit to-wake-the- dead, cord-riddled, brick-and-mortared call center. I hated that job. Not because of the phone calls. Some of them were insanely amusing, some were frustrating, and true – some were extremely annoying. I hated my job because I hated the working environment (not the actual work). It gave me a headache just to see the building and winding my way along the cubicle corridors to find my station never ceased to be tedious.
But it's not like that today, at least not for some call center agents and customer service representatives. You know, the ones who take calls right from home.
While I referenced call center agents (or customer service representatives) before, see Be Careful, Is it Really Employment, I didn't spend time researching or compiling a list of companies that look for and hire home-based, phone-based, agents or representatives.
What does a virtual call center agent do?
Whatever the title; call center agent, customer service representative, help desk specialist, or brand ambassador… virtual call center agents take inbound, or perhaps sometimes make outbound, phone calls for a company (or companies) that are routed through to their home. If you're interested in a telecommuting position that entails taking phone calls and assisting the callers, you'll need to have a computer with high-speed Internet access, a dedicated phone land-line, a really nice headset, a quiet place to take calls, and, well, a plethora of patience since you may be dealing with callers who are less than happy.
Companies that Hire Agents to Take Calls
I've italicized the word "hire" above because some call centers don't "hire" or "employ" agents but rather use them as outsourced labor. To learn more about the difference between an employee and a 1099 contractor, refer again to Be Careful, Is it Really Employment. Be sure to do your due diligence and look carefully at the particular job offer you're considering to determine what your working status would actually be and look for additional information on the company you're considering. Blog postings and comments, forums and message boards, the BBB, and search engines can all bring a wealth of information your way about any given company. Don't just read the website copy and sign up without doing a bit of preliminary research.
That said, here is a list of companies known to hire virtual call center agents that work from home. Be sure to check more into any of these before diving into an application process feet first.
Companies that are known to hire call center agents include:
Additional Resources for Call Center Agent Work