by Jill Black
"If you can imagine it, You can achieve it, If you can dream it, You can become it." -William Arthur Ward
Setting goals gives a target to aim for and provides focus for where you going and how you intend to get there. When it comes to building a life the average person spends more time planning their annual vacation than they do in planning their life.
When was the last time you reviewed your current goal list?
What goals have your successfully completed?
What goals will you carry forward into your new plan?
You do have your goals written down don't you?
If not, then go do it right NOW! Get a notebook and write out your goals.
Make separate headings for each of the major areas that lead to a balanced lifestyle.
– Health
– Family
– Financial
– Intellectual
– Social
– Professional
– Spiritual
In each of these areas ask yourself…
– What do I want?
– Why do I you want it?
– And what am I willing to do to get it?
Take the time to ponder and reflect on your answers.
Research has found that the higher the goals are set,the higher we achieve. Have you set your goals high enough?
Setting well-defined goals helps to channel your focus and energy towards what is important for turning dreams to reality.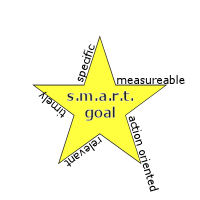 Have you set SMART goals? A SMART goal is always…
S – Specific
M – Measurable
A – Action Orientated
R – Relevant
T – Timely
The hardest part of any goal is starting.
Decide on your most important goals and translate them into specific steps and activities required for you to reach them. Start with the end in mind and work backwards.
What do you need to do yearly, monthly, weekly?
What can you do in the next 24 hours to get started on your goal?
There is power in writing goals down. Put your goals on paper and place them where you will be reminded of what you are trying to achieve: on your bathroom mirror, in the car, your wallet or purse, beside your computer or any place where you will view them often.
Long term goals of 2, 3, 5 years or lifetime goals may require many steps to reach the target and should be re-evaluated on a regular basis to en sure you are still on course. At other times goals may change and may need a course adjustment to get back on track if this is a goal you still want to achieve.
If you have not started on turning your dreams into goals then DO IT NOW for there is no time like the present to take action towards making all your dreams a reality.
Copyright © J Black 2004. For more articles and ideas for better living visit Jill online today at – www.Netwrite-Publish.com