A while back a Pendaflex rep emailed me to see if I'd be interested in test driving some office organizing products. I already make use of Pendaflex hanging file folders to keep my file cabinet colorfully sane and keeping my home office organized is always a goal. So I decided to take them up on the challenge to see what they'd send and how I might be able to incorporate it into my every day organization tactics.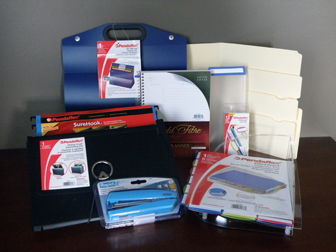 I was pretty surprised when the package arrived. There were far more handy items than I had expected.
Honestly, it was a bit like Christmas morning for this geeky home-office mom.
←This is a picture of everything that actually came in the box as neatly as I could arrange it all. Wow, huh?!
And here's a handy list of each item and its intended use:
PileSmart Desktop Tray
Sort piles of paper using this angled tray to keep important papers at your fingertips. Features write and erase tabs so you can rename divider tabs whenever you feel the need.
PileSmart View Folders
Heavy plastic tabbed folders that securely hold papers. One side is closed and the other side opens for easy access with a lip that holds paper in place when needed.
PileSmart Label Clips
Clip up to 20 pages with the clip that has amply space to write a description of contents.
Rapid FREEZE Stapler
Staples 2-30 sheets together in a flash with a unique Super Flat Clinch. Uses standard 1/4″ staples but unlike other staplers, you get 40% flatter stacks.
Expanding File with Sliding Cover
Allows you to organize files in 13 pockets and quickly converts to a carry case so your files are handy wherever your work may take you. The sliding cover fits completely out of your way in the back of the file when in use.
On The Go Desk Top File
Easy to use portable file that makes it's own flat surface to stand sturdy while is use. The front and back curl around and snap at the bottom so it stands alone. There are six tabbed pockets to keep your work organized. At the bottom you will find a neat push out section where you can store you pencils, pens, clips etc. Unsnap at the bottom and re-snap at the top to be out of the office with your files in a flash. The convenient handle makes it easy to carry.
SureHook Hanging Expandable File
Allows you to quickly file papers alphabetically in filing cabinet for easy access in the future.
SureHook Reinforced Hanging Folders
Hanging folder with tabs that can be placed along the top for labeling. Comes with inserts for the tabs so they can be changed when necessary.
Divide-It-Up Multi-section Folders
One folder that you can divide your papers in three different tabbed sections.
GoldFibre Project Planner Notebook
The perfect solution for project management. The notebook has 84 ruled 9 1/2″ x 7 1/4″ sheets to document everything in one place. You can write in it easily while holding in one hand because of the strong back. The micro-perforation sheet allow you to remove a sheet neatly when needed.
My main desk area is fairly organized already with a system I find useful. While I didn't want to jump in rearranging or reorganizing the things I use every day, I definitely wanted to put the new Pendaflex products to the test and discover how I might one day incorporate them into my everyday work habit flow.
So I set out to make a mess on a side desk in my office. I piled some things I typically use and came up with this menagerie of office clutter:


It's not as messy as I've seen some of my messes, but it certainly gave me something to work with. I began taking the packaging off the bundle of colorful Pendaflex products which, in the invitation email, had promised to brighten my work space. I read a little about each one and thought about how it might help me transform the now cluttered desk into a truly functional work space.
Then I set out to use all of the Pendaflex products to organize the mess and make a truly workable area. This is what I ended up with: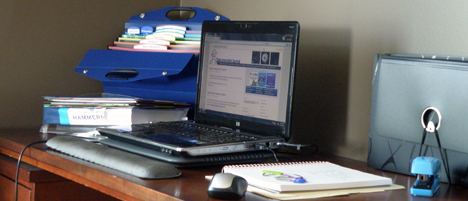 I took quite a bit of time playing with and testing out the variety of organization tools and I must say the Rapid FREEZE Stapler was my favorite of all. It staples with very little effort and, awesomely enough, the staples don't poke out from the back side of the papers . . . which means you can stack stapled packets really neatly (and there's nothing to snag your fingers).
Here's the difference between what the stapler I have now and the shiny new blue stapler produces:



Pretty cool, huh?! And I can't say enough about the color! So much more refreshing than my drab slate gray one.
A really close runner-up for fave would have to be the On The Go Desk Top File. It's a simple way to keep your papers handy and so fast to unsnap, close and go. There's also a little slide out drawer at the bottom so you can keep your favorite pens, pencils, paperclips, or whatever you might want to keep handy ready to go, too.
Love Pendaflex as much as I do? Check out the Beyond Folders Contest Entries and vote for your faves:
Beyond Folders Photos
Beyond Folders Videos
They'll be choosing a photo and video winner from the top 4 vote-receiving photo and video entries.
I love the originality of the post-it flower by Rachael Wagoner and I'm totally torn between the creativity of video skills in Pendaflex Travels Worldwide by Caitlin Baransky and War and PostIts by Kevin Baer, so I voted for them both. You can vote for as many entries as you like once per day. Voting ends July 8 and the winners are announced on the 15th.
Connect with Pendaflex: