The key word to note here in the title is "WORKED." Keith Jackson not only rode his bike across the United States, he WORKED the entire time.
He wrote us a couple weeks ago saying . . .
I am about to finish a bicycle ride from St Augustine, FL to San Diego, CA while telecommuting the entire way. I have a journal online at: http://www.crazyguyonabike.com/doc/ride4aamds.

I've worked from home for about 5 yrs and said I could work from anywhere so I set out to prove it.
On February 20, 2010, Keith left St. Augustine, FL on his way to San Diego, CA along Adventure Cycling S Association's southern tier. He planned to use a combination of camping, warmshowers.org, and hotels, but ended up staying in some pretty funny places, too. We didn't start reading his journal until his email came in the middle of April, but we quickly caught up with the reading and continued to watch the updates. We were very happy when he posted about crossing the finish line on April 17th, 2010.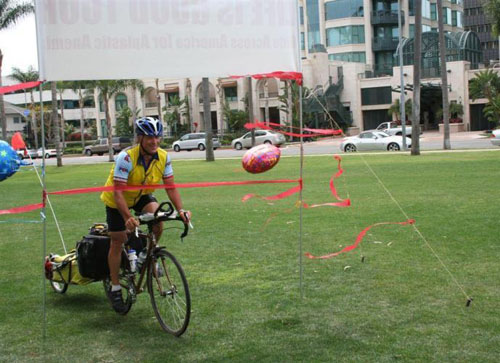 Keith writes software for a living and normally works out of his home office. While it's pretty exciting to see a crazy guy on a bike prove he can make this incredible journey while keeping up with his workload, it's even more remarkable when you hear how he combined his telecommuting status with his desire as a father to support a worthy cause that's near and dear to his family . . .
In 1997 my 10 yr old daughter was diagnosed with a rare bone marrow failure disease called aplastic anemia. She recovered and is doing great now but I've been involved with the Aplastic Anemia and MDS International Foundation (http://www.aamds.org) ever since. They were a tremendous help at the time and have been a great organization to work with. I hope to spread awareness of the disease along the way as well as meet patients, care givers and donors.

I was blessed to be able to maintain a full time job while caring for my daughter. I connected a modem to the hospital room phone line and was able to work. Not many people are that lucky. Every day 1000's of caregivers struggle to hold full time jobs while caring for a child or parent with severe illnesses.

Balancing a full time job and riding across the country is a piece of cake in comparison.
Read his entire first journal entry, What, when, where, why. From there you just keep hitting "next" at the end of each post to read his first-hand account of what it was like to live, and work, while riding a bike from the East Coast to the West Coast. Amazing and inspirational!
By 2013 his youngest child will be out of the house and we suspect Keith just might make the road may just replace his home office.
To learn more about his cause, The Aplastic Anemia and MDS International Foundation, be sure to visit AAMDS.org!